What is a cupping therapy?
Cupping therapy is the oldest, ancient form of the traditional manual therapy. First recorder use of cup therapy came from the famous Taoist alchemist and herbalist GE HONG (281-341 A.D.) who said "Acupuncture and cupping, more than half of the ills cured". Traditional cupping was originally using animal horns (the horn method). The suction was created through the use of heat. The cups were heated with fire and then applied to the skin. As they cooled, the cups drew the skin inside. Cupping is a healing method known for thousands of years, counted today, in the era of huge advances in medicine, full-fledged methods of treating many diseases. Treatments with the use cups are called cupping therapy. Pressure therapy, massage and acupressure are among the oldest methods of treatment. Cupping have survived in folk medicine and are now being rediscovered, also is an alternative medicine. Cupping treatment is the application of small cups that create a vacuum seal over specific areas of the body, mainly the back. It is used to break up stagnation and promote the free flow of Qi (Chinese word which means life force) & Blood in the channels which helps relieve pain in the lower back, neck, shoulders, legs and abdomen. It is also often used in patients who have chronic lung conditions such as asthma, allergies and/or cough, and also for Castro-intestinal disorders.
Hot cupping, so-called fire cupping therapy, in order to place it correctly, moisten its edge with water, then moisten the swab wound on a stick with alcohol, ignite and rub around the inside of the cups with a smooth movement, put the cup on the skin on a selected part of the body and hold for a moment until it is sucked. Hot air inside it, cools down, opposition reduces its volume and creates a vacuum. Dry cupping is equipped with a special valve, and the vacuum is created by sucking the air with a stick after applying the cups to the skin. Usually, it takes 5 – 10min to apply the cups into the skin. Wet cupping also known as blood cupping or hijama, involves both controlled medicinal bleeding and suction. It generates a mild suction, by leaving a cup in place for about 3 – 5 minutes. The therapist then removes the cup and uses a small scalpel to cause tiny cuts on the skin. Later, the therapist does a second suction to draw out a small quantity of blood. After the session, you may get an antibiotic ointment and bandage to prevent infection. Within 10 days skin will look normal again.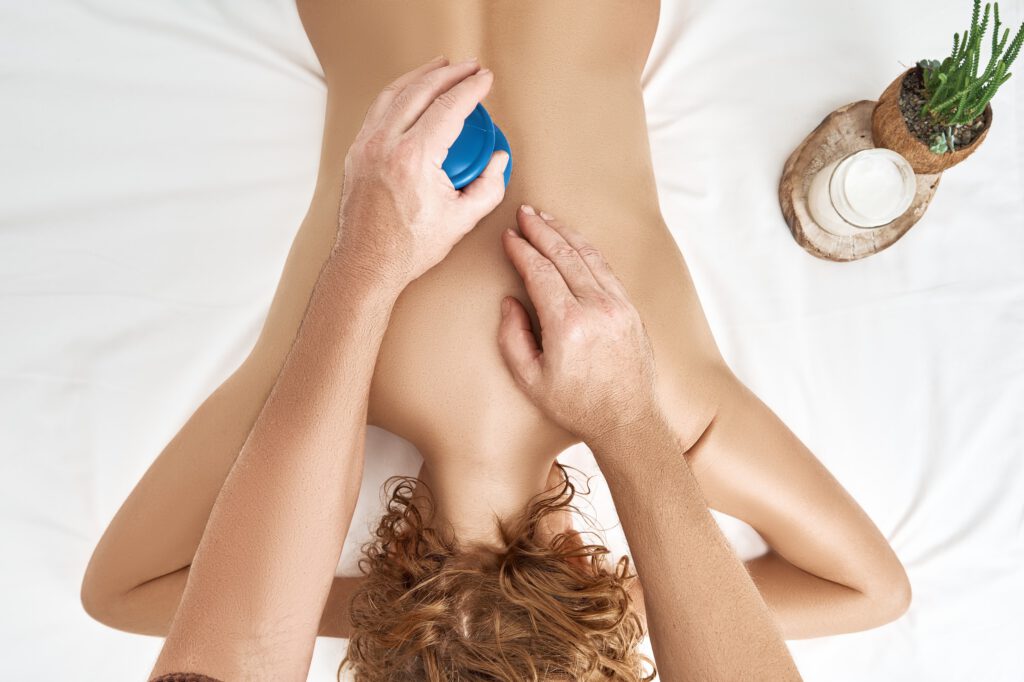 Cups Massage is at the forefront of the most effective, non-invasive cellulite reduction treatments, excessive fat and skin firming. The great advantage of this massage is to obtain satisfactory results in a relatively short time. It is suggested to perform a series of massage cupping, which consists of 8-10 treatments performed at intervals of 2-3 days. Effectiveness of cupping you will see after a first session. The practitioner uses massage oil, spreads it to parts of the massaged body. Studies showed by suction and through appropriate techniques you will improve health, also skin.
What are the benefits of cupping?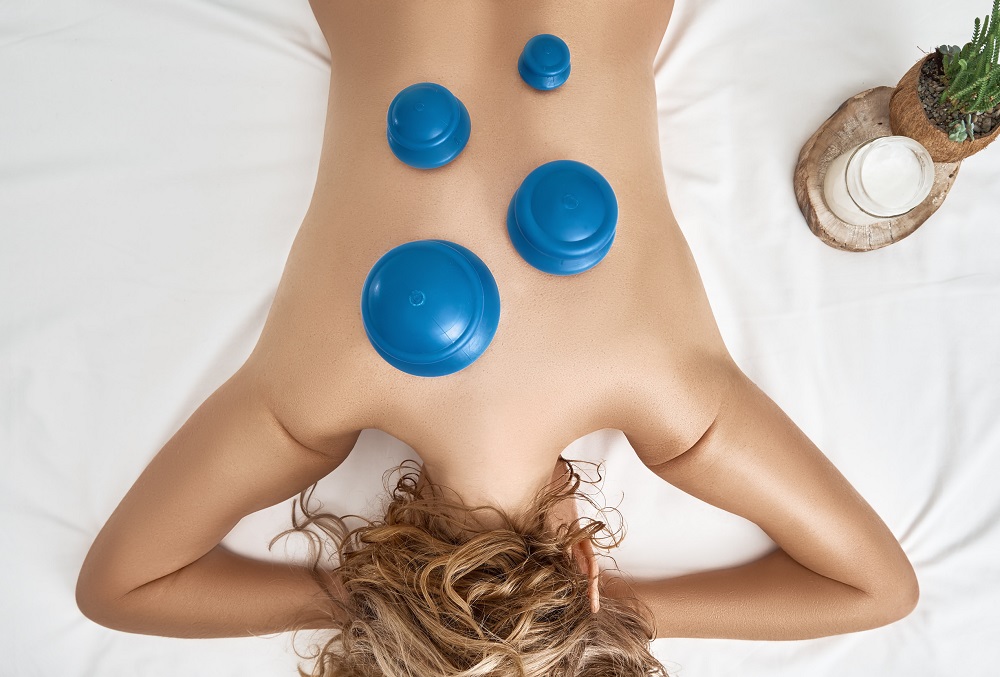 Cupping for Detoxification, Cupping for Relief from Respiratory Issues, Cupping for Better Digestion, Cupping for Clear, Flawless Skin, Cupping for Relief From Pain, Relief from allergies and asthma, Relaxation and de-stressing, Reduction in inflammation, Anti-aging benefits, Faster healing from colds and flu, Relief from migraine headaches. Cellulite reduction, increase the firmness and elasticity of the skin, improvement of skin condition, body shaping, reducing the circuit (slimming), acceleration of metabolism (metabolism), reduction of lymphedema. Reduce pain all over the body.
Cupping therapy is safe and beneficial to our overall health. We receiving more favor because of removing dead blood cells, our cardiovascular system is cleaner. Review evidence and studies showed we've got more medical positive effects then risk of using cupping therapy. However, you can ask your doctor for medical advice before your session. The doctor will explain you everything about cupping Chinese, cupping benefits, and whether you can have this treatment done, depending on your health condition. Cupping therapy should be avoid by pregnant and menstruating women, as it not suitable for this groups.
This is a special form of massage used for local and general treatment. It exerts a much deeper effect than a classic manual massage. Its healing effect is associated with stronger blood supply to tissues in the treated area and their better nutrition, as well as accelerated venous blood and lymph outflow, which facilitates the removal of unnecessary waste products and other harmful substances. In addition, this treatment is one of the best methods available to relax and relax muscles. Cupping therapy is used not only on muscles and skin, but by reflex it acts on internal organs, as well as strengthens the immune system and frees the body of toxins, improves our health.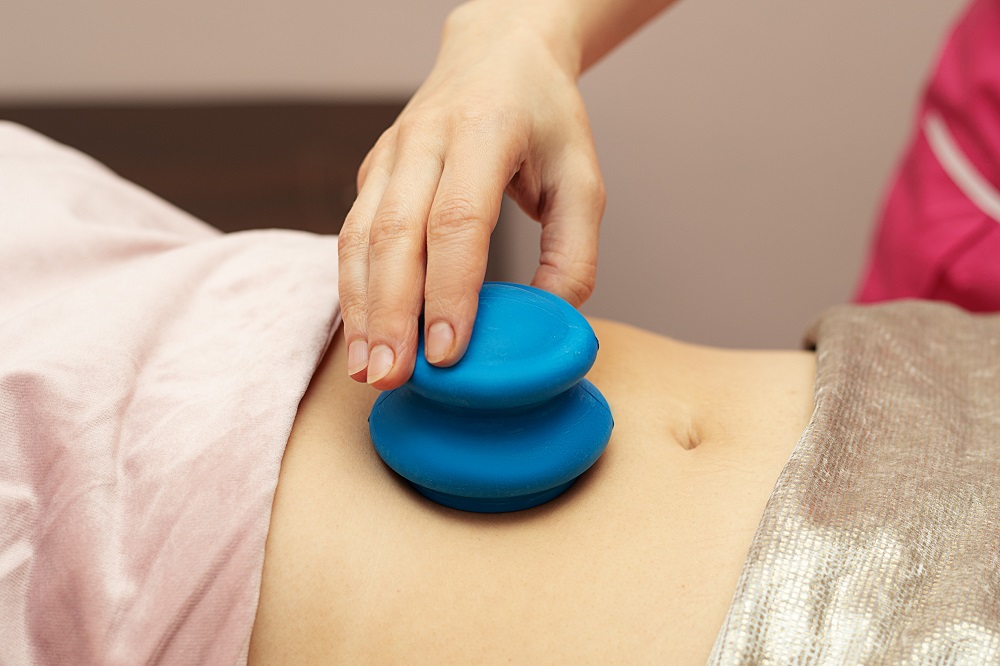 Thin, very delicate skin, prone to rupture of blood vessels, heart diseases, unregulated hypertension, prone to hemorrhages, blood coagulation disorders, thrombosis, pregnancy, breast-feeding, arthritis, fever, infectious diseases of the skin, menstruation, cancer, active tuberculosis, diabetes. If you are looking cupping near me, choose one of the best qualified massage therapist, practitioners by checking the review, feedback's.