This is a NONE SEXUAL service, aimed towards men and women of all ages.
Work fully dressed and do not do any "extra" – please do not offend me by asking.

ANY SEXUAL OFFERS WILL BE REPORTED TO THE POLICE!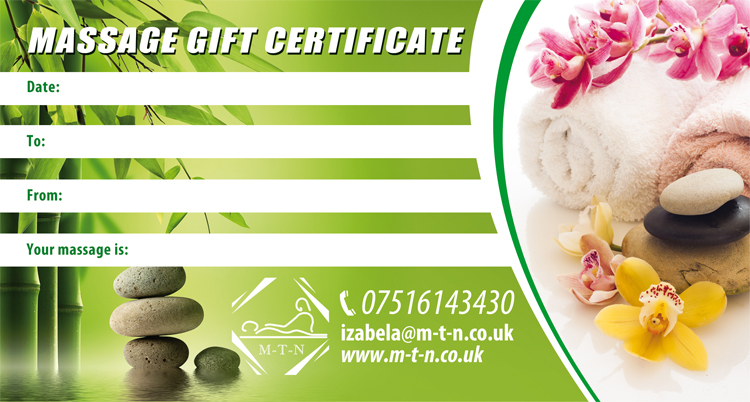 Gift Card Certificate are now available to buy online through PayPal or credit/debit card!
It can be great gift for Birthdays or Christmas.
To purchase a Gift Voucher just select the type of massage you want, and we will post the Voucher to you straight away. You will receive a PayPal receipt for your purchase.
If you have any queries please feel free to contact with me.
£100 Full Body Massage 120 min BUY NOW
£80 Full Body Massage 90 min BUY NOW
£60 Half Body Massage 60 min BUY NOW
£50 Legs Massage 45 min BUY NOW
£40 Full Back Massage 30 min BUY NOW
£40 Hands & Arms Massage 30 min BUY NOW
£60 Herbal punches massage 60 min BUY NOW
£60 Sport Massage 60 min BUY NOW
£40 Sport Massage 30 min BUY NOW
£40 Anti Cellulite Massage 30 min BUY NOW
£60 Pregnancy Massage 60 min BUY NOW
£40 Indian Head Massage 30 min BUY NOW
£40 Bamboo Back Massage 30 min BUY NOW
£60 Bamboo Full Body Massage 60 min BUY NOW
£60 Cupping Massage + Therapy 60 min BUY NOW
£40 Cupping Massage 30 min BUY NOW